BOWTIE

Wideband omnidirectional antenna designed for use on a sound bag
Overview
The BOWTIE is a compact wideband antenna which has been designed for use on a sound bag. It's bandwidth 470-700 MHz, omnidirectional polar pattern (in a horizontal plane) and inbuilt 700 MHz low pass filter deliver flawless performance in a today's disturbed RF environment.
Rock solid and IP65 sealed mechanical construction guarantees careless functionality both in indoor and outdoor locations. Every BOWTIE is delivered as a complete package including also special bag antenna holder, short BNC-BNC and BNC-SMA(RA) cable.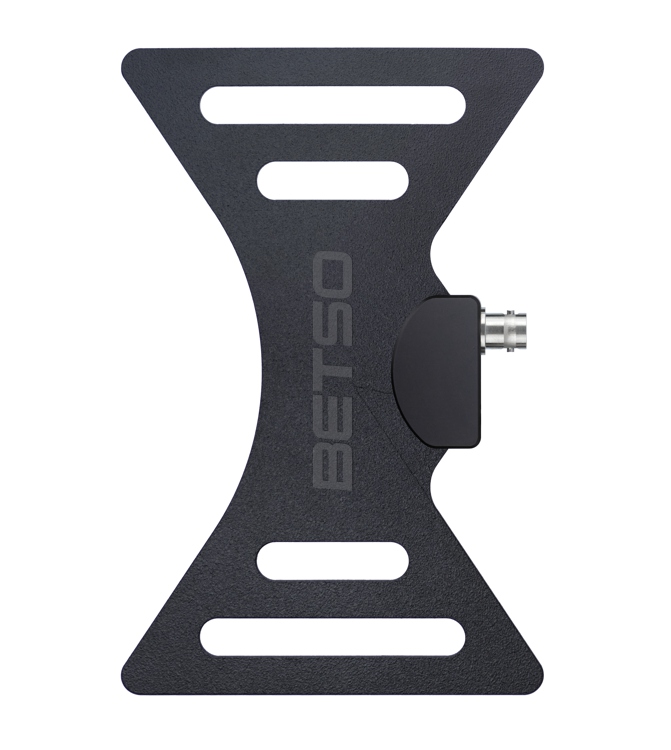 Glass-reinforced epoxy laminate with structured paint
Inbuild 700 MHz low pass filter
Special weight reduction and aerodynamic holes
Sealed Amphenol BNC connector for RF output
Standard 1/4" internal thread for antenna mounting
Sealed mechanical construction with IP65 rating
Main features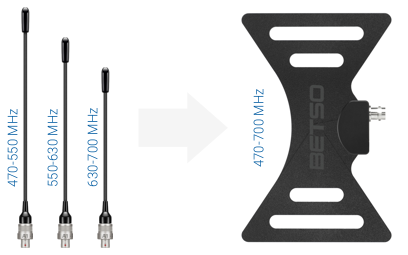 Wideband operation 470-700 MHz
Standard whip antennas are tuned in to relatively narrow band and users need to change antenna according to actual working bandwidth of their wireless system to achieve good reception.
The BOWTIE antenna structure brings working bandwidth 470-700 MHz,
so you can be always sure your antenna is receiving as many signal as possible and you can take care of other things when shooting.
Inbuilt 700 MHz low pass filter
Today's RF spectrum is full of signals which can cause intermodulation and decrease range of your wireless system. These signals can be LTE - high speed mobile internet (now starts to occupy spectrum above 700 MHz), then 3G, GSM, bluetooth and WiFi to name a few.
BOWTIE has an inbuilt 700 MHz low pass filter which can effectively remove these signals before first active parts in the receiver.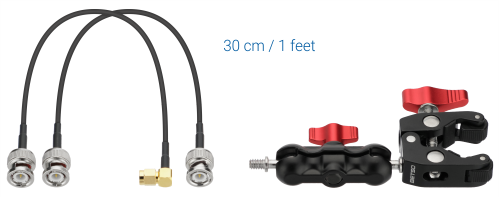 Accessories included in the price
With BOWTIE users can be sure, that all accessories they need for work are included in the price and package.
Accessories included:
1pc bag antenna holder, 1pc BNC-BNC and 1pc BNC-SMA(RA) 30 cm long cables for connecting antenna to the receiver or multicoupler.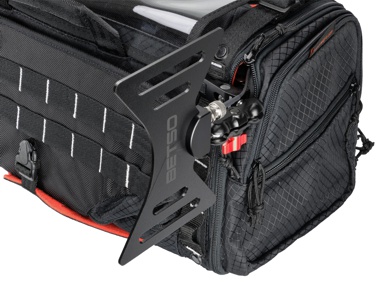 Unique antenna holder (included)
Very important aspect of bag antenna is it's ability to be mounted on a sound bag. Not only to one special bag but to almost every bag on the market.
BETSO ANTENNA HOLDER fulfill all requirements of users - is compatible with all bags on the market (especially with the ones with a solid frame like ORCA or K-TEK), is fully adjustable, foldable and rock solid.
Top build quality
Lightenned antenna structure is made of glass-reinforced epoxy laminate covered by scratch resistant structured paint. Precise sealing of all mechanical parts ensures great dust and water resistant performance (IP65 rating).
Technical specifications
| | |
| --- | --- |
| Antenna type | Passive |
| Frequency range | 470 MHz to 700 MHz |
| Inbuilt filter | low pass 700 MHz |
| Antenna structure gain | 1.8 dBi (@ 600 MHz) |
| Antenna directivity | as a dipole |
| Antenna polarization | Linear |
| Antenna VSWR | Excellent < 1.2 (@ 600 MHz) |
| Mechanic construction | CNC milled, anodized aluminium alloy and glass-reinforced epoxy laminate |
| Mounting | 1/4" thread |
| Dimensions (h x w x d) | 170 x 111 x 14 mm (6.7" x 4.4" x 0.55") |
| Weight | approx. 76 g (0.2 lb.) without holder and cable |
Polar patterns and polarization

POLARIZATION: "FRONT VIEW" and "SIDE VIEW" on graphs above show BOWTIE in a vertical polarization.
Downloads
| User manual | | | |
| --- | --- | --- | --- |
| User manual EN | 06.01.2020 | 109.19 KB | Downloads |