TCD-1

Compact Self-powered Time Code Display with Advanced Functions
Overview
The TCD-1 is a very compact time code display with a large, 1" high time code screen, capable of displaying any format of incoming time code. Special effort during the development phase
was applied to lightweight, robust and precise mechanical construction, which will secure your confidence as the right time code read out solution.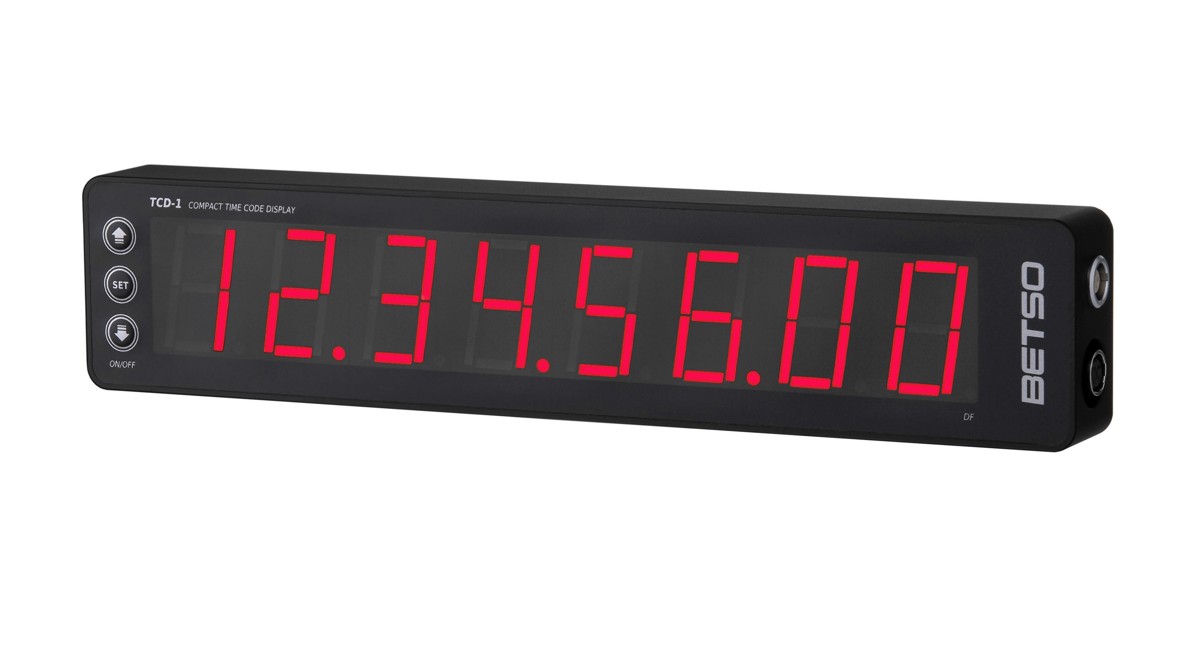 Intuitive menu based function settings
1" high brightness LED displays
Original LEMO and HIROSE connectors
High quality CNC milled aluminium case
Main features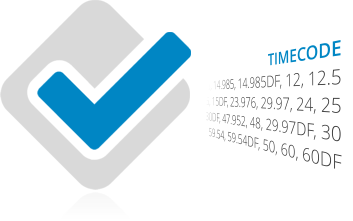 Display Time Codes of All Frame Rates
The BETSO TCD-1 automatically detects input time code format and starts to display it immediately after connection. It has zero frame offset, which ensures exact time code read outs anytime during the day.
Additionally, it has an easy-to-access feature of time code format readout simply by holding UP button for one second. Drop frame format can be recognized during normal operation by the state of the last decimal point - when the shining drop frame format is detected on input.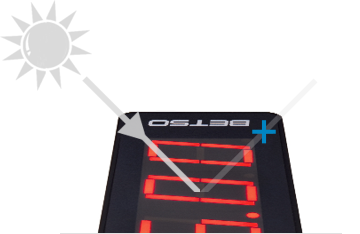 1" Super-bright LED Display with Anti-glare Surface
Ambient light independent time code readouts are guaranteed thanks to a large, 1-inch high, super-bright LED display with a special anti-glare surface that avoids sun reflections. Its brightness can be easily adjusted to six modes to meet actual light conditions.
Extremely Easy to Use
No matter if TCD-1 is turned on or off, the special inbuilt feature gives TCD-1 the ability to start displaying input time code immediately upon insertion of a cable with active time code.
This means no settings have to be programmed, time code format is recognized automatically, and same the device can also be powered up automatically. Furthermore, when input time code stops, it will lead to TCD-1 power off to save the accumulator's energy.
When it comes to changing some special features' functionality, the TCD-1 can be adjusted through the very intuitive menu shown on the display.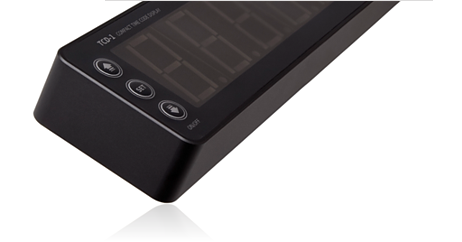 Precise Mechanical Construction with very Compact Dimensions
The BETSO TCD-1 is made from lightweight aluminum alloy by precise CNC milling and laser cutting. With its small dimensions and light weight, it is ideal for portable use.
High durability can be further extended by using the TCD-1 Nylon Pouch, which is available for purchase as an optional accessory.
Powering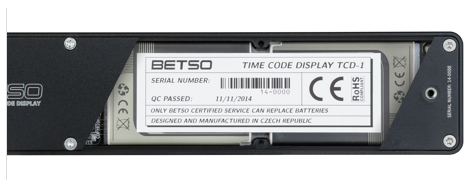 Very long operating time is provided by a replaceable internal high capacity Li-Ion accumulator which can provide up to 60 hours of operation. External power sources can be used in the case of a flat accumulator and the same can be used to charge them again thanks to inbuilt charging circuitry.
Accumulator life can be further extended by activating one of the power saving functions which displays only certain frames from time code flow.
2800 mAh
high quality
Li-Ion cells
60 HOURS
of battery
run-time
SMART
power saving
functions
IN-BUILT
batt. charging
circuit
Technical specifications
| | |
| --- | --- |
| Display | 1" high red LED with adjustable brightness |
| Dimensions (h x w x d) | 44.5 x 215 x 21 mm |
| Weight | approx. 283g (including batteries) |
| Mechanical construction | CNC milled, anodized aluminium alloy |
| Powering | Internal Li-Ion accumulator |
| | External powering 9 - 16 V DC |
| Current consumption | 1 - 550 mA * |
| Battery life | Up to 60 hours ** |
| SMPTE TC formats | 23,976 fps - 30 fps including DF and NDF (also 0.5 and 2 multiples: 11.98 fps - 60 fps supported) |
| Input TC sensitivity | 0.2 - 10 V (p-p) |
| Input TC offset | 0 frames |
* depends on the operating mode
** with the lowest display brightness and without power saving function
Advanced features
| | |
| --- | --- |
| Display settings | TCD-1 can be set to display timecode, userbits or each 10 frames alternating TC and UB |
| Power saving functions | Saves accumulator's energy by displaying only certain frames from timecode flow |
| TC hold | Power saving function defining time of active timecode displaying after push of a button |
| Full brightness | When activated each first frame of each new second will be displayed with maximum display brightness |
| Auto off | Automatically turns on and off TCD-1 according to active or inactive time code input |
| Battery charging | User selectable behaviour upon external power source insertion (charging automatically or upon confirmation) |
| Voltage readout | Simple external power source (if applied) or accumulator voltage level readout |
Downloads
| User manual | | | |
| --- | --- | --- | --- |
| User manual EN | 14.01.2015 | 206.39 KB | Downloads |