WTCS

16 channel wireless time code slate packed with lots of advanced functions
Overview
The BETSO WTCS wireless time code slate meets the tough requirements of everyday use both from the mechanical as well as from the functional point of view. Applied materials such as stiff wood,
anodized aluminum alloy and ball bearings, along with quality treatment processes, ensures a long product life and maximum satisfaction of its use.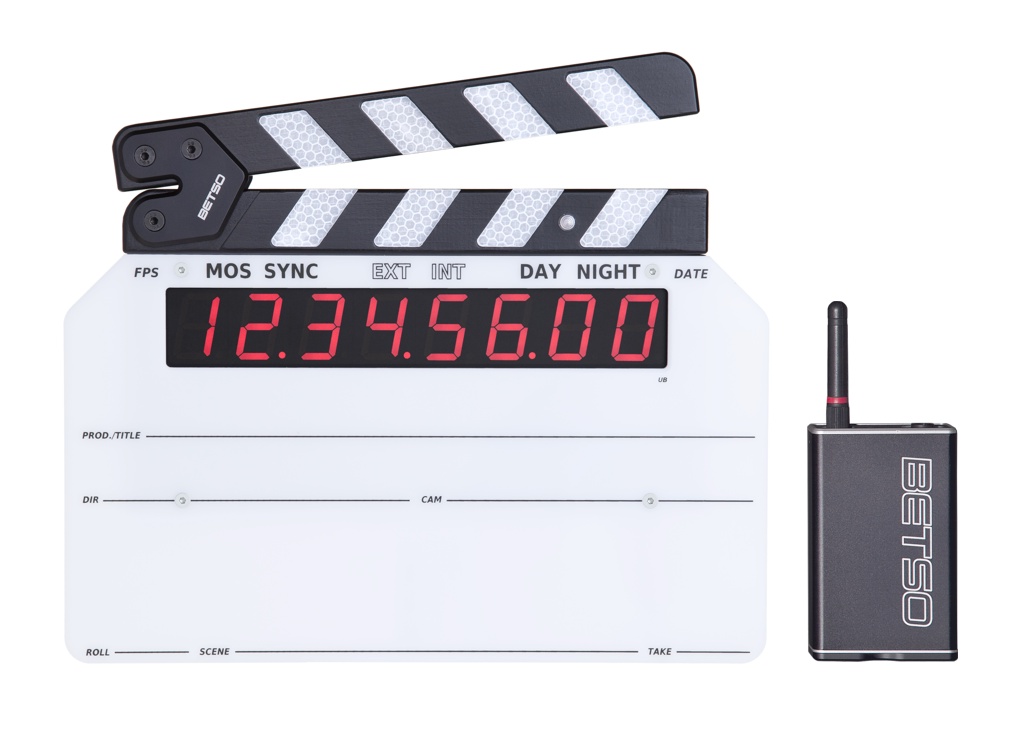 Ball bearings for lifetime carefree clapping
Wood arm with inbuilt smart LED
Both - large and compact slate write areas included
One TCX timecode transceiver included
Main features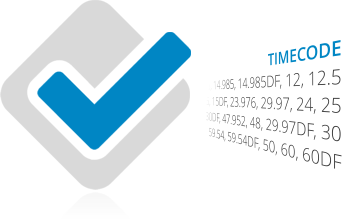 Receives Time Codes of all Frame Rates
The BETSO WTCS wireless slate supports all existing frame rates in the range of 23.976 fps - 30 fps, and both drop frame and non-drop frame formats. The WTCS wireless slate automatically detects receiving TC signal format and allows you to view actual information about the format of the receiving TC signal on display in real time. It can process up to two times the sped up TC signal (for use in music videos etc.).
1" Super-bright LED Display with Anti-glare Surface
Ambient light independent time code readouts are guaranteed thanks to a large, 1-inch high, super-bright LED display with a special anti-glare surface that avoids sun reflection. Its brightness can be easily adjusted in ten modes to meet actual light conditions.
Solid and Precise Mechanical Construction with Reduced Weight and Decent Dimensions
During the development phase, special focus was kept on the infield daily use. Therefore the main body is made from very stiff anodized aluminium alloy using CNC milling and laser cutting technologies. This was the only way to get a very robust, but still as small and as lightweight a device as possible.
The highest in quality demands were also put on the details, which led to ball bearing and stiff wood utilization in the arms of the slate and high quality writing sheets.
Wireless Time Code Transmission
The BETSO WTCS wireless slate allows receiving of time code signal on one of the 16 independent RF channels in a frequency band 433.15 - 434.65 MHz with a bandwidth of 100kHz. BETSO WTCS wireless slate supports both standard and packet modes of transmission of TC according to BETSO PACKET standard.
BETSO PACKET standard was developed to significantly reduce the transmission failure in the interfering radio environment. This standard allows for the operation of the BETSO WTCS wireless slate at a distance of up to 400 m from the transmitter of the TC signal in conditions of direct visibility.
Powering
The WTCS is powered by 6 AA batteries or accumulators or, alternately, from an external power source through the input time code cable.
The smart power feature allows prolonged use of the slate during battery operating. Battery life depends on the intensity of the brightness of the display and reaches up to 600 hours in standby mode or 60 hours in active mode. A low battery power indicator is included.
6x AA
alkaline/accu
batteries
SMART
power saving
functions
Technical specifications
| | |
| --- | --- |
| Display | 1" blue OLED with adjustable brightness |
| Dimensions (h x w x d) | 207 x 270 x 30 mm (with large writing sheet) |
| | 150 x 225 x 30 mm (with small writing sheet) |
| Weight | approx. 1130 (including batteries) |
| Mechanical construction | CNC milled, anodized aluminium alloy, stiff wood and ball bearings |
| Powering | 6x AA battery (alkaline or lithium) / 6x accu (NiMH, NiCd) |
| | External powering 6 - 18 V DC via 6,3mm Jack connector |
| Current consumption | approx. 30 - 900 mA * |
| | approx. 2,5 mA in stand-by mode (arms of the slate closed) |
| Battery life | Up to 64 hours ** |
| SMPTE TC formats | 23,976 fps - 30 fps including DF and NDF (also 2x multiples: 23.976 fps - 60 fps supported) |
| Input TC sensitivity | 0.2 - 10 V (p-p) |
| Frequency range | 433,15 - 434,65 MHz |
| Number of channels | 16 (0 - F) |
| Channel bandwidth | 100 kHz |
| Frequency deviation | 20 kHz |
* depends on the brightness of displays
** with the lowest display brightness
Advanced features
| | |
| --- | --- |
| Battery type | Settings of battery type for proper low battery indication |
| TC source | Setting of timecode input source - cable, radio or automatic decision according to cable insertion |
| RF channel | 16 available channels for wireless timecode reception |
| Display TC | Setting of displayed data during opened arm of the slate - timecode or user bits |
| TC hold | Setting of duration of displaying of timecode after a clap |
| UB hold | Setting of duration of displaying of user bits after a clap |
| Full brightness | Feature of full brightness timecode display immediately after a clap |
| Smart arm LED | Can flash during each zero frame of each second and also in the frame of clapping |
| Auto OFF | Can automatically power down after long period withou manipulating with the slate |
| Voltage readout | Simple battery voltage level readout |
Downloads
| User manual | | | |
| --- | --- | --- | --- |
| User manual EN | 15.01.2015 | 393.28 KB | Downloads |