TCXS

Set of multifunctional 16-channel transceivers for time code transmission
Overview
The TCXS is a set of multifunctional 16-channel transceivers that includes two TCX transceivers. The BETSO transceiver TCX is 433 MHz ISM band-operated 16-channel time code transceiver, which can be easily switched from reception to transmission mode.
Its body is made from anodized, CNC milled aluminium alloy, which ensures high durability of the TCX device. Top quality RF circuitry offers long range performance and a very long battery life.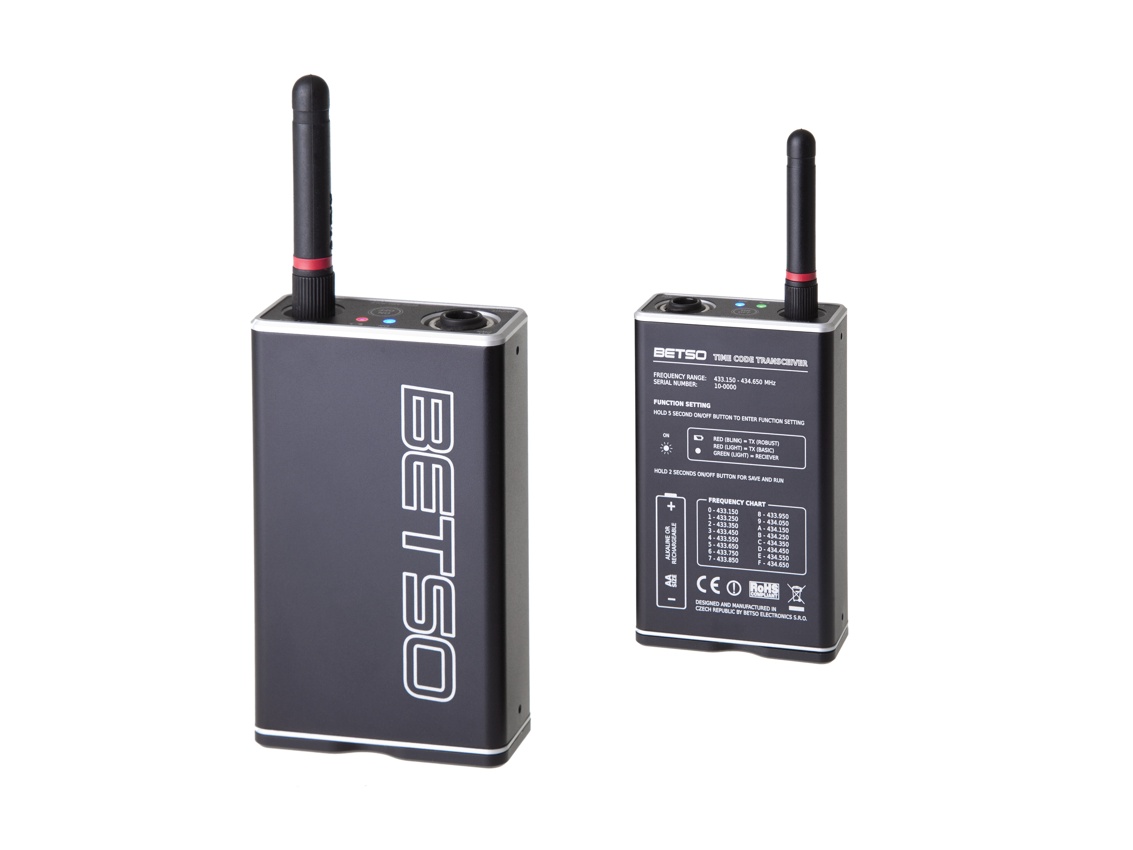 Rock solid aluminium case
Easy settings of RX / TX function, low battery indication
Main features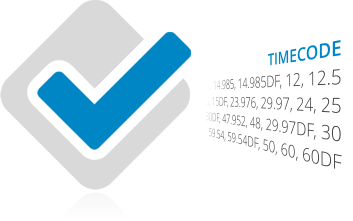 Supports all SMPTE Time Code Frame Rates
Multifunctional 16-channel transceiver BETSO TCX supports all existing frame rates in the range of 23.976 fps - 30 fps (both drop frame, and non-drop frame formats).
Additionally, it can handle up to two times the sped up time code, so that the real time code frame rate capability is 23.976 fps - 60 fps (both DF and NDF formats).
Input time code format is recognized automatically.
Standard and BETSO PACKET Wireless Protocols Implemented
Standard time code signal transmission mode allows the configuration of two multifunctional 16-channel transceivers (BETSO TCX) to work with one time code signal transmission. This set of multifunctional 16-channel transceivers can be used with any other wired or wireless device which processes an SMPTE time code signal. This standard facilitates BETSO TCXS operation at a distance up to 350 m in the conditions of direct visibility.
The Standard BETSO PACKET was developed to significantly reduce the transmission failure in interfering radio environments. This allows transmission of TC signals to the wireless slate (BETSO WTCS) and operation at a distance of up to 450 m from the transmitter of the TC signal in the conditions of direct visibility.
16-channels in Frequency Band 433.15 - 434.65 MHz
The multi-channel topology of the TCX device offers the possibility of operating up to 16 independent time code wireless networks at once in the same place. The benefit of multiple channel options is also the possibility of switching to free channel, if the currently used channel is being interfered with by noise or other electronic devices.
On one channel, at any moment, it can operate one TCX set to time code transmitter mode, an unlimited number of TCXs set to time code receiver mode or unlimited number of WTCS time code slates. Channels may be chosen when the battery door is opened by using the mini screwdriver tool which is included.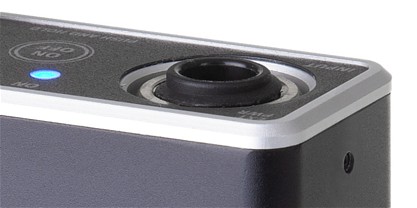 Top Build Quality
Thanks to precise CNC milling manufacturing technology, anodized aluminium alloy material and original high quality connectors and components, the TCXS is very durable but still the most versatile time code unit you'll find today.
Powering
The operating time of the TCX time code transceiver is up to 35 hours in time code transmission mode (from one AA battery or accumulator). Additionally, a Smart Power saving feature, during SMPTE time code Paused Mode or during inactive time code input was implemented. This can increase battery life up to 8 times when these modes are used during the TCX operation.
Low battery indication feature is indicated by continuously shining red LED diode and will self-activate when battery levels are low.
Technical specifications
| | |
| --- | --- |
| TCX state indication LEDs | 1x blue (time code activity), 1x multicolor (red - transmitter mode, green - receiver mode) |
| Dimensions (h x w x d) | 89 x 55 x 24 mm |
| Weight | approx. 154g (including battery) |
| Mechanical construction | CNC milled, anodized aluminium alloy |
| Powering | 1x AA battery (alkaline or lithium) / 1x accu (NiMH, NiCd) |
| | External powering 3 - 18 V DC |
| Current consumption | 6 - 65 mA * |
| Battery life | Up to 35 hours ** |
| SMPTE TC formats | 23,976 fps - 30 fps including DF and NDF (also 2x multiples: 23,976 fps - 60 fps supported) |
| Output TC amplitude | +6dBu |
| Input TC sensitivity | 0.2 - 10 V (p-p) |
| Frequency range | 433,15 - 434,65 MHz |
| Number of channels | 16 (0 - F) |
| RF output power | 1mW (1dBm) |
| Channel bandwidth | 100 kHz |
| Frequency deviation | 20 kHz |
* depends on the operating mode
** in active transmit / receive mode, depends on the quality of alkaline battery or NiMH
Downloads
| User manual | | | |
| --- | --- | --- | --- |
| User manual EN | 23.01.2015 | 343.89 KB | Downloads |