En2 HEXAPACK

Very compact En2 portable rack system with power distribution and ultra-low noise signal filtering
Overview
The BETSO EN2 HEXAPACK is a portable rack system for Audio Ltd. En2 receivers. It provides power distribution to all inserted receivers, connected antennas, and even other external devices. It can handle up to three DX/DX2 receivers, so up to 6 audio
channels can be easily connected to one pair of receiver antennas for maximum rig organization. HEXAPACK has very compact dimensions and robust construction, which designate it for field use.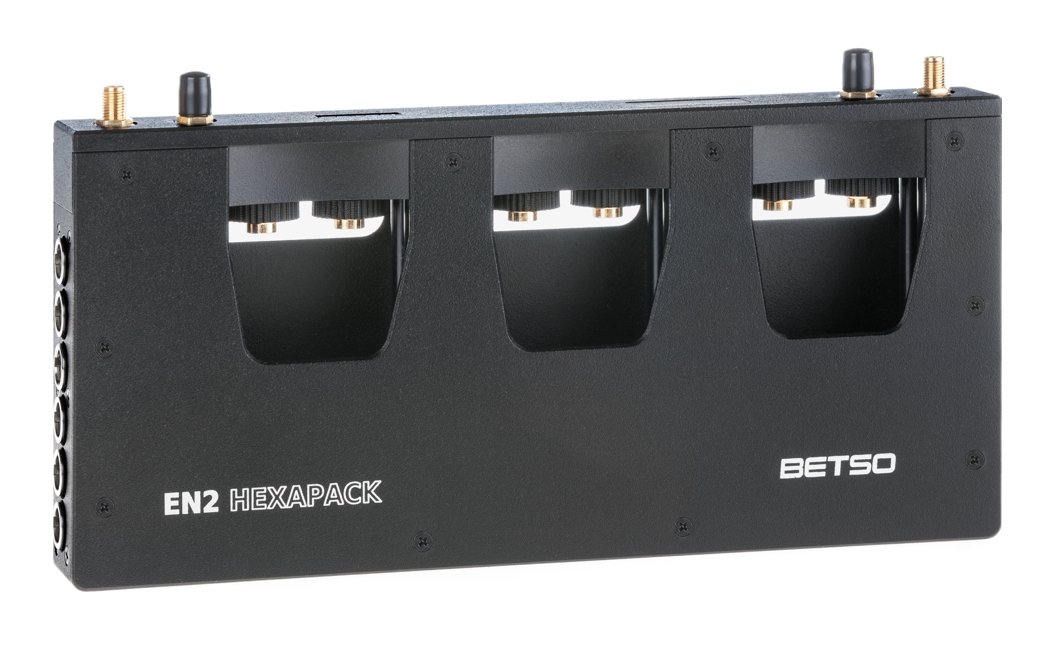 High quality RF IN/OUT SMA connectors
Precise and robust mechanical contruction
Audio output mini XLR connectors
Slots for Audio En2 DX/DX2 receivers
Switchable DC power output for active antennas
Main features
Antennas Signal Distribution
RF signal from each antenna is equally distributed to all connected En2 receivers. For systems with larger numbers of transmitted channels, signal from each antenna can be evenly distributed between one or more HEXAPACKS or other devices through the antenna output connectors.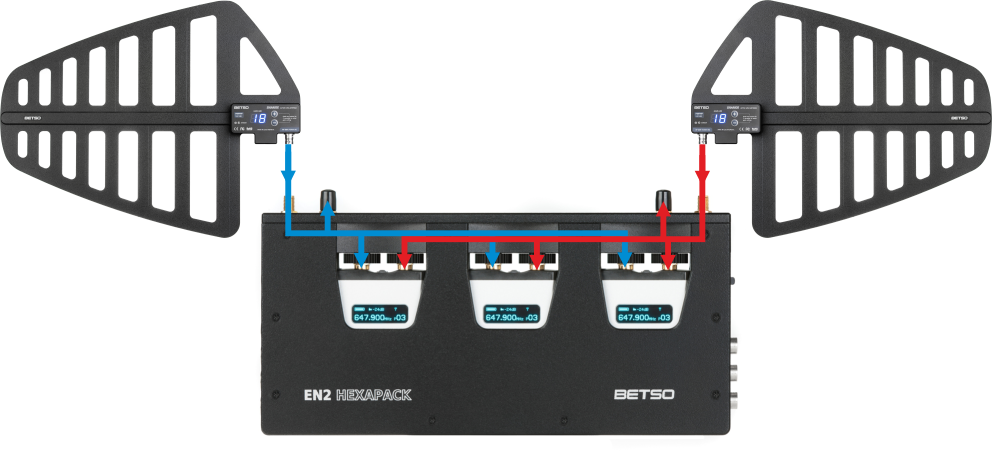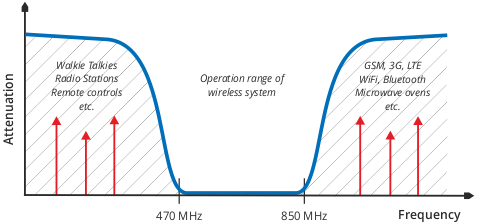 High-Efficient Input Filters for Removing
Unwanted RF Spectrum
The HEXAPACK high-efficient input filters help to prevent receiver intermodulation with other sources in band outside of the main working range of wireless systems like walkie-talkies, FM radios, wireless focus systems, WiFi and Bluetooth devices like mobile phones, etc.
Performace of wireless system will be better with less dropouts.
ANY
active antenna
can be used
Antennas Powering
If required, external antennas powering can be easily switched on, providing DC power supply to external antennas through SMA connectors. This feature is valuable for easy connection of active receiver antennas like BETSO SHARKIE or BETSO CPAA.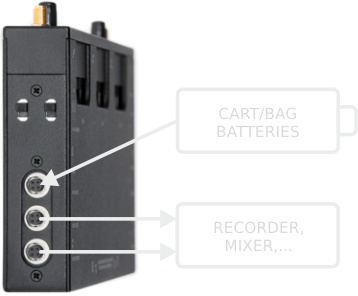 Power Distribution
The BETSO HEXAPACK can be powered externally from DC power source of 6-18 V DC, which can be distributed to other (up to two) devices by parallel-connected external power connectors for easy rig interconnection. This external powering is then used for En2 receiver powering and optionally, if required, for active antenna powering.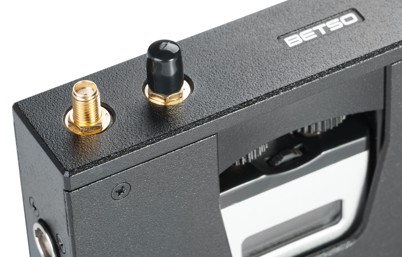 Top Build Quality
Thanks to precise CNC milling manufacturing technology, aluminium alloy material, and original hi-quality connectors and components, HEXAPACK is very durable and compact solution for the best rig organization.
Technical specifications
| | |
| --- | --- |
| Frequency range | 470 MHz to 850 MHz |
| Input filters attenuation | High below 450 MHz (for example -82dB @ 100 MHz) |
| | High above 870 MHz (for example -35dB @ 2.4 GHz) |
| Dimensions (h x w x d) | 125 x 235 x 29 mm (4.9" x 9.25" x 1.14") |
| Weight | approx. 564 g (1.24 lb.) |
| Mechanical construction | CNC milled aluminium alloy |
| Powering | External powering 6 - 18 V DC |
| Current consumption | 30mA @ 12V |