WTCS-1

Wireless time code slate in slim, lightweight and durable design
Overview
New BETSO WTCS-1 wireless time code slate is carefully designed to meet rising demands on displayed information capability, overall product durability and lightweight and "plug and play" functionality. It is WiFi ready for cooperation with iOS MovieSlate application
and has our latest RF transceiver module for wireless transmission of time code and status information. And of course a lot of more cool features to make your work easier.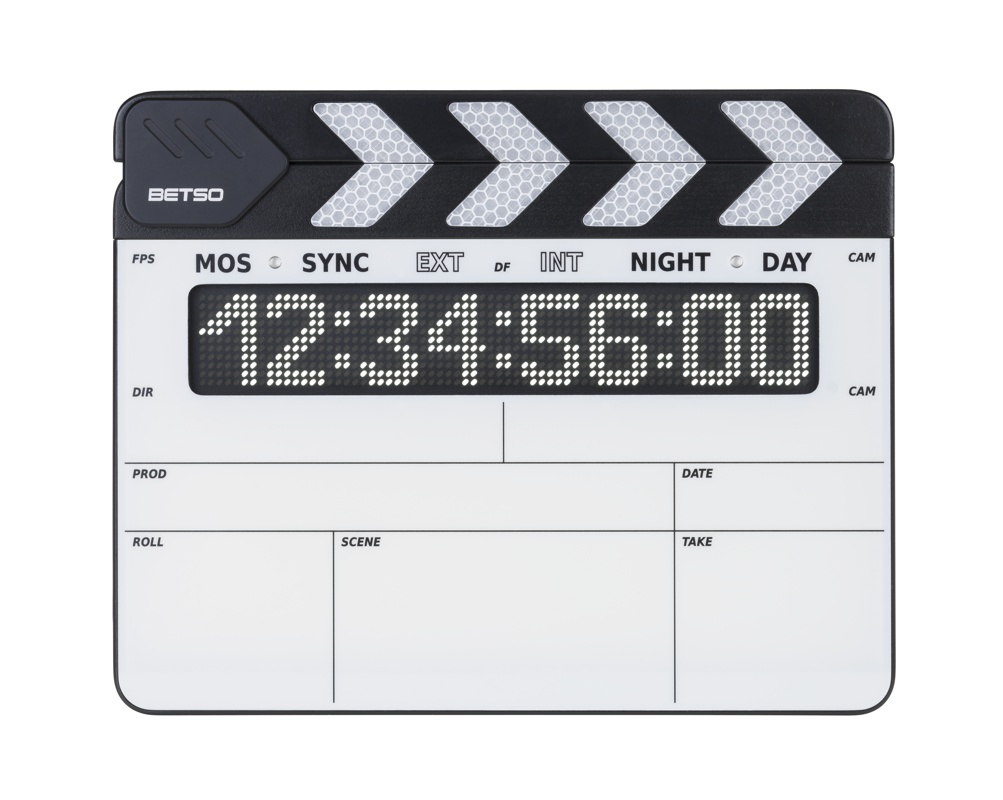 Ultra bright 1" graphic LED display with anti-glare surface
Intuitive menu based settings
Internal highly accurate temperature compensated oscillator
Bright blue leds for clap indication
Implemented WiFi and long range radio transceivers for advanced functionality
Main features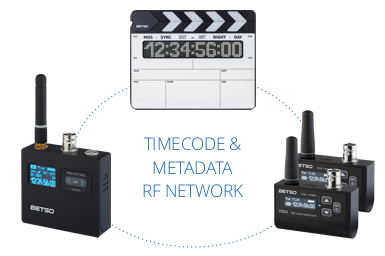 RF transmission
Our whole new concept of wireless transmission of time code and status information is ideal for simple on stage workflow control. Each device connected to the network will be continuously jammed from transmitter and on each device you can observe status information of all other devices in the network.
The operating range is up to 500m within the line of sight. The RF protocol incorporates frequency hopping spread spectrum technology approach which ensures robust functionality even in the environment with high RF noise.
When unit set as receiver is out of the RF range, it keeps generating synced timecode.
All Time Code and Word Clock Formats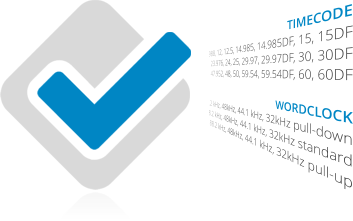 The WTCS-1 can receive, precisely jam or start to generate new time codes of all existing SMPTE time code formats.
Also, all commonly used word clock formats are supported, including their pull-up and pull-down options.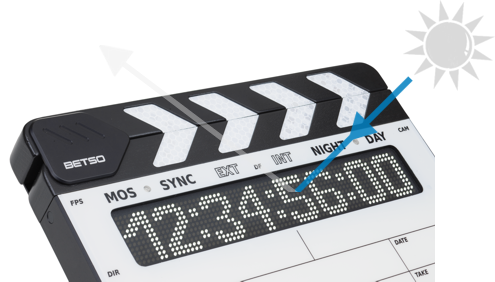 1" Super-bright graphical LED display with Anti-glare Surface
Ambient light independent time code readouts are guaranteed thanks to a large, 1-inch high, super-bright graphical LED display with a special anti-glare surface that avoids sun reflection. Its brightness can be easily adjusted in ten modes to meet actual light conditions or can be set automatically in relation to actual ambient light conditions thanks to integrated sensor.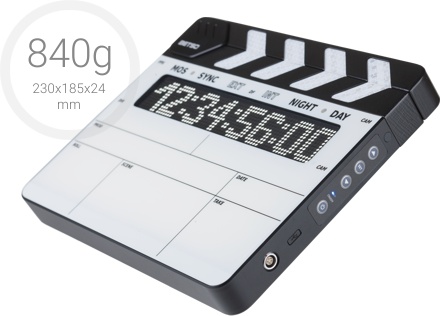 Solid and Precise Mechanical Construction with Reduced Weight and Decent Dimensions
During the development phase, special focus was kept on the infield daily use. Therefore the main body is made from very stiff anodized aluminium alloy using CNC milling and laser cutting technologies. This was the only way to get a very robust, but still as small and as lightweight a device as possible.
The highest in quality demands were also put on the details which led to stiff wood utilization in the arms of the slate, sealing on the battery door and high quality writing sheets with optional protection labels (accessory).
Technical specifications
| | |
| --- | --- |
| Display | Graphical 1" high, white LED display with adjustable brightness |
| Dimensions (h x w x d) | 230 x 185 x 24 mm (9.0" x 7.3" x 0.9") |
| Weight (w/o batteries) | approx. 760g (1.68 lb) |
| Mechanical construction | CNC milled, anodized aluminium alloy and stiff wood |
| Powering | 6x AA battery (alkaline or lithium) / 6x accu (NiMH, NiCd) |
| | External powering 6 - 16 V DC |
| Current consumption | approx. 30 - 1000 mA * |
| | approx. 4 mA in stand-by mode (arms of the slate closed) |
| Battery life | Up to 100 hours ** |
| SMPTE TC formats | 23,976 fps - 30 fps including DF and NDF (also 2x multiples: 23.976 fps - 60 fps supported) |
| Input TC sensitivity | 0.2 - 10 V (p-p) |
| Frequency range | 902 - 928 MHz (USA/Canada) |
| | 863 - 870 MHz (Europe) |
| | 920.6 - 923.4 MHz (Japan) |
| Number of channels | 5 |
| RF output power | 10mW (10dBm) |
| Operating range | up to 500m *** |
* depends on the brightness of LED display
** with the lowest display brightness
*** within the line of sight
Advanced features
| | |
| --- | --- |
| RF transmission | RF transmission of time code and device status information |
| GPS calibration | Factory GPS based calibration of TCXO with better than 0,1ppm accuracy result |
| Jamming calibration | Jamming calibration feature to copy master's TCXO precision |
| Cross jamming | Cross jamming allowes timecode sync between two different framerates |
| Auto ON | Automatic power ON function after active time code detection |
| Auto OFF | Can automatically power down after long period withou manipulating with the slate |
| Smart arm LED | Can flash during each zero frame of each second and also in the frame of clapping |
| Backlight | Backlight of writing area of the slate |
| Display orientation | Allows to set 180° display rotation for upside down WTCS-1 LED display readout including automatic display rotation |
| Ambient light sensor | Display brightness can be adjusted automatically according to actual ambient light conditions |
| TC offset | Time code offset adjustment from -10.0 to 10.0 frames with 0.1 frame step |
| UB settings | Variable user bits settings including preset value, jammed user bits and live external timecode insertion |
| Real Time Clock | Real time clock option for user bits settings including combinations of year, month, day, hour, minute and second |
| GPS time TC | Starts to generate exact UTC time code synchronized all over the world |
| USB ready | USB connector available for future firmware upgrades |
Downloads
| User manual | | | |
| --- | --- | --- | --- |
| WTCS-1_user_manual_EN.pdf | 15.08.2017 | 74.7 KB | Downloads |